Bouquet of flowers from Lego icons

We all want to be the type of person to keep a bouquet of fresh flowers on the kitchen table, but life gets in the way and busy schedules take over. So what if there was a way to get a bouquet that never fades? No, we're not talking about a silk flower. Instead, Lego flower bouquets are one of the latest home decor trends that TikTok is springing up.
Yes, Legos. The little bricks you played with as a child are a sophisticated and practical way to artfully decorate with flowers at home.
But are Legos really the home decor trend to follow? Tried the Lego Flower Bouquet – here's what I think.
What is the Lego flower bouquet?
Lego has released a botanical collection that includes abundant flowers, bouquets, and plants. The sets are aimed at adults, with kits ranging from 500 pieces to over 1,000.
The flower bouquet I tested is suggested for anyone 18 and older, while simple flower sets like Lego tulips and sunflowers are suitable for ages 8 and older.
The 756-piece Lego flower bouquet comes with 15 stems with plastic flowers like daisies, California poppies and lavender. The stems are about 14 inches tall, about the same size you would get in a bouquet with real flowers.
The flowers can be arranged in a single large bouquet or you can divide the stems into several smaller arrangements.
What I like about the Lego flower bouquet
Building the bouquet is an afternoon of fun
Assembling the Lego flower bouquet was an absolute blast. While I like arranging fresh cut flowers once in a while, it's definitely not as fun as assembling this set. Granted, Legos weren't my go-to activity growing up, so this was my first experience building a Lego set.
With a podcast in the background, I spent an afternoon setting it up and found the experience delightful. Having an activity that didn't involve screen time was peaceful. Even if I made a mistake or mixed up parts, they were easy to fix and I always found building the set a great way to relax.
Clear instructions make building easy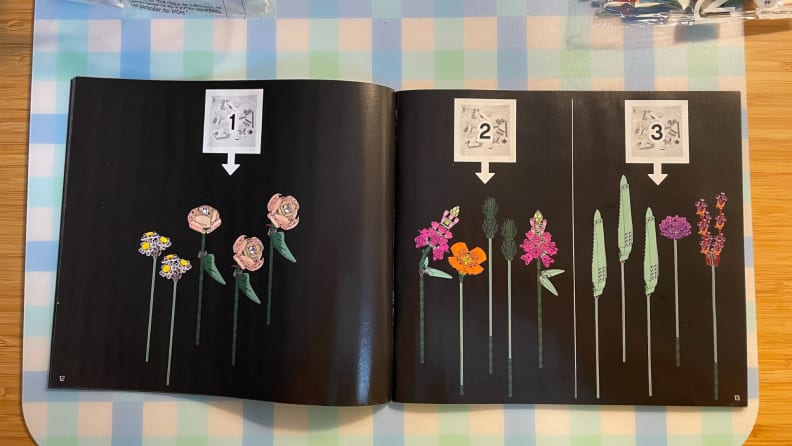 Not knowing the instructions usually included in Legos, I had no idea what to expect. The box contains five clearly labeled plastic sleeves. These correspond to the steps in the instruction booklet so you know where to find the right materials.
Instructions are provided in pictures rather than words and are easy to understand. Some parts look alike, however, the instructions are in color to help distinguish them.
Separating the parts into sections made the process easier. Rather than spilling the contents of the pieces on the table, I found it convenient to put the pieces in bowls to keep them contained.
Even though I don't have kids at home, I have a perpetually hungry cat who is curious about everything he finds on the floor, and I didn't want to risk him trying to transform one of the blocks. colored as a snack. Luckily the bowls kept everything contained and organized along the way.
A unique take on classic decor
Since the Lego flower bouquet can replace real flowers, you want something equally eye-catching. Although this bouquet mimics the look of real flowers, it definitely won't pass for the real thing.
The classic Lego brick design is evident throughout this bouquet with its square edges, giving it a digitized look straight out of a Super Mario ride. The vibrant colors of the plastic blocks really make it stand out. Since building the set, it's made me smile every time I see it sitting on my kitchen table.
What we don't like
Arranging flowers is harder than it looks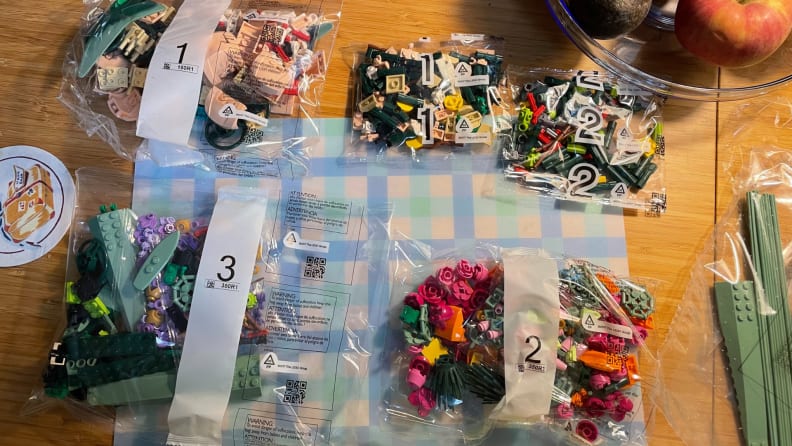 There's no denying the unique beauty of the Lego flower bouquet, but getting into formation was easier said than done. One wrong move can cause it to burst. (Don't ask me how I know.) Building the rods is a fairly straightforward process, but arranging them was nothing but an awkward mess.
Moving the constructed stems caused petals and leaves to fall off, so I had to stop and pull them up more times than I would have liked. As the flowers of the Lego bouquet are made of plastic, they are rigid and therefore less easy to position in the case than the flexible stem of a real flower.
Each piece of the bouquet is top-heavy, making it easy to tip the Lego arrangement if the opening of the vase is too wide. For a sturdier installation, I recommend using a vase with a narrow opening.
Should You Buy The Lego Flower Bouquet?
Yes, it's fun activity and statement decor in one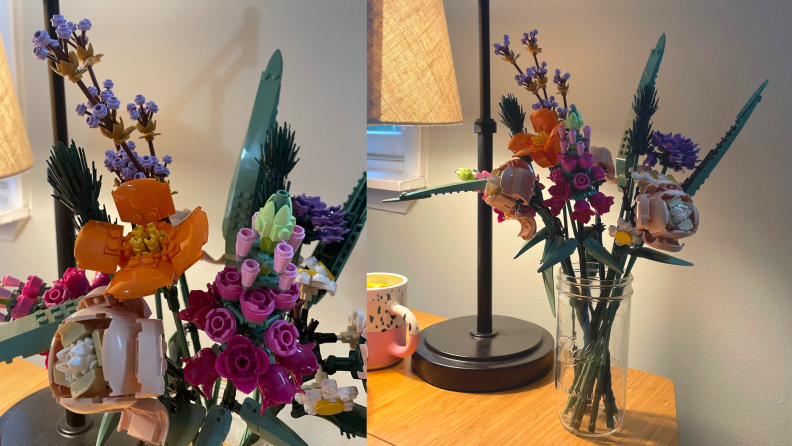 After seeing my TikTok feed flooded with videos of people enthusiastically putting together these bouquets, I understand the hype. They are delicious to put together and are a fun activity to add to your relaxation plans.
The bouquet is also a beautiful piece of interior decoration. While fresh flowers will fade within a week, this Lego bouquet is an everlasting piece that will stay beautiful wherever you keep it. It is customizable as you can divide the stems into different vases around your house.
The beauty, versatility, and built-in fun of the Lego flower bouquet make this decorating trend worth buying.
Review's product experts have all your shopping needs covered. Follow Avis on Facebook, TwitterInstagram, TikTok or Flipboard for the latest deals, product reviews and more.
Prices were accurate at the time this article was published, but may change over time.
Bouquet of flowers from Lego icons