LOS ANGELES-Maurice Harris is known for his vibrant floral designs and even more vibrant personality. Both were on display at a recent event with Ketel One Botanical, which celebrated the Bloom & Plume founder's new collaboration with the vodka brand.
The event, which took place May 19 at a private residence in West Hollywood, was tied to the new "Spritz Into Summer" collection, a limited-edition curated online store on TheBar.com featuring favorite entertainment items from Harris. The new line, which launched May 16, includes custom dried bouquets and decorative napkins designed by Harris, as well as items like colored glassware and cocktail accessories. The flowers and colors for the event were inspired by Ketel One Botanical's three signature varietals – grapefruit and rose, cucumber and mint, peach and orange blossom – with all floral arrangements designed by Harris (pictured).Photo: Connor Gaskey
Ketel One Botanical is distilled with real botanicals and infused with natural fruit essences, featuring three signature varietals: Cucumber & Mint, Grapefruit & Rose, and Peach & Orange Blossom. So teaming up with Harris, who Ketel One brand manager Olivia Kupfer calls "a visionary in his field," seemed like the right fit.
"Ketel One Botanical approached me with an interest in collaborating in a way that brought the joyful nature of their products to life through my art form: floral design," Harris told BizBash. "I am delighted to be able to give these spirits a personality and translate it into a sensory experience. In my floral studio – and with everything I do – I aim to inspire joy, creativity and individuality. Finding that same passion in a like-minded partner is what makes collaborations like this all the more fun and rewarding.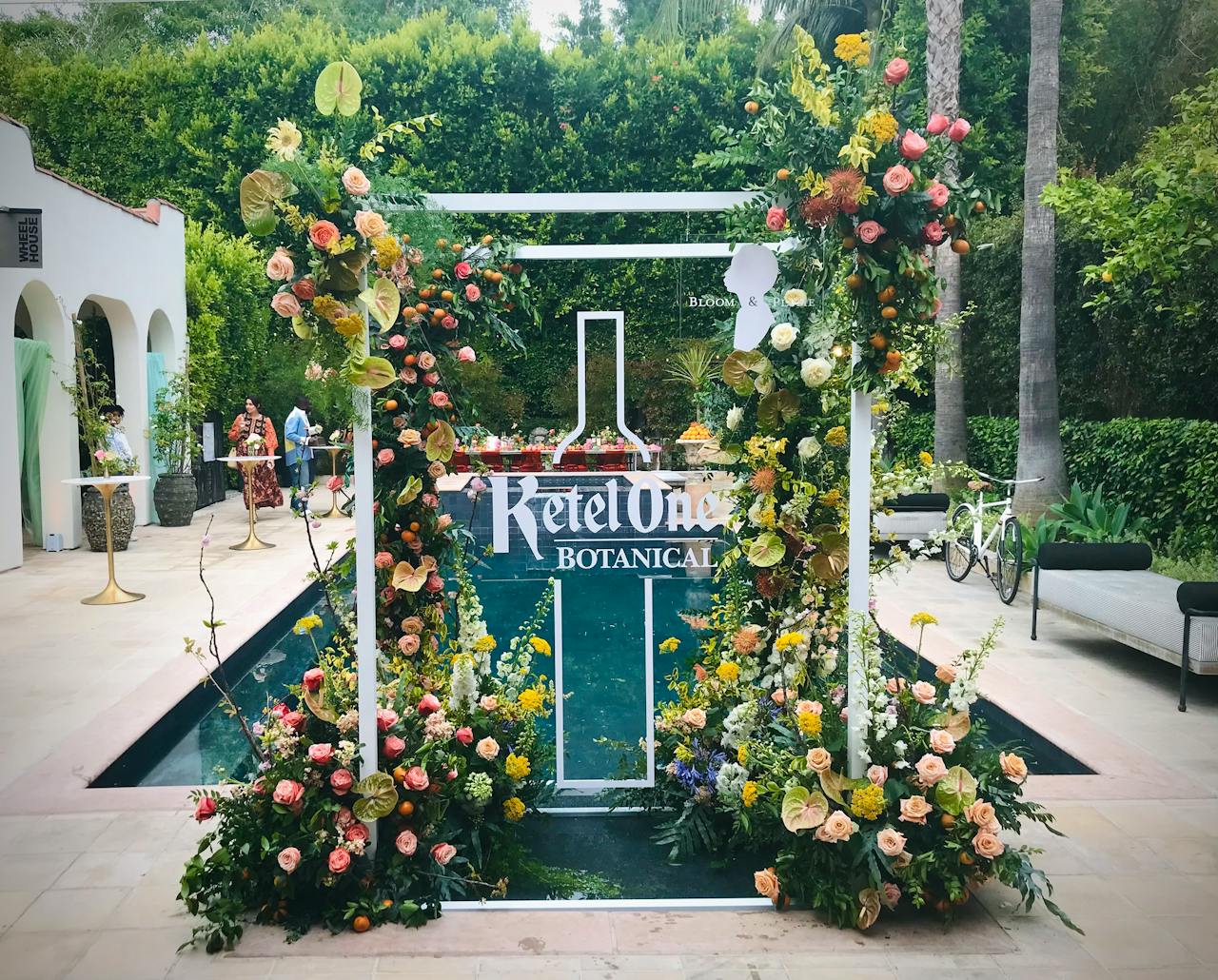 Kupfer says events and activations have played an important role in Ketel One Botanical's brand strategy since its launch in 2018. -early experiences. There really is no stronger connection point than sipping a Botanical Spritz in a Ketel One Botanical environment."Photo: Claire Hoffman/BizBash
The launch event itself was also inspired by the three signature flavors.
"We wanted to bring to life an immersive, live environment that guests could interact with," Kupfer said. "Not only were we able to do this, with the help of Maurice, but I think we captured the sensory, light taste and vibrant world of Ketel One Botanical live. The beauty of Ketel One Botanical lies in the three award-winning varietals and the real ingredients they're made from, so any chance to visualize each varietal – and what a spritz tastes like while sipping – through our ingredients is always exciting.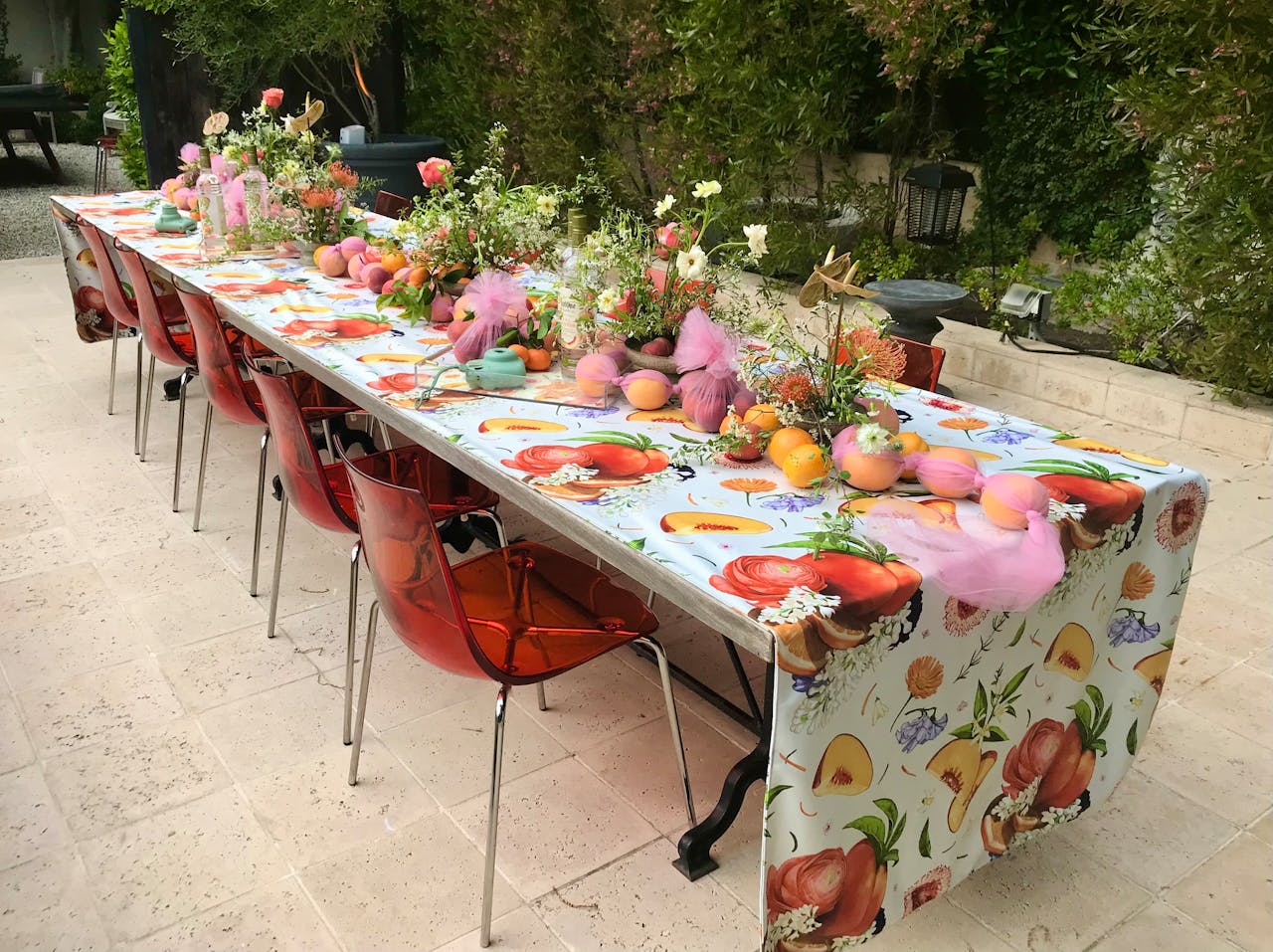 To fit in with the "home entertainment" aspect of the new line, Bloom & Plume designed a tabletop setup filled with fruit and flowers. The eye-catching tablecloth featured a custom print from the collection.Photo: Claire Hoffman/BizBash
Creative elements included a bouquet-making station, where Harris and her team guided guests through the process, as well as flower-covered photo ops, a dining table setup covered in fresh fruit and flowers, and framed illustrations depicting Harris' designed print of the compendium. Of course, an abundance of floral arrangements, all designed by Bloom & Plume, created a lush summer gathering space where guests can mingle and sip cocktails.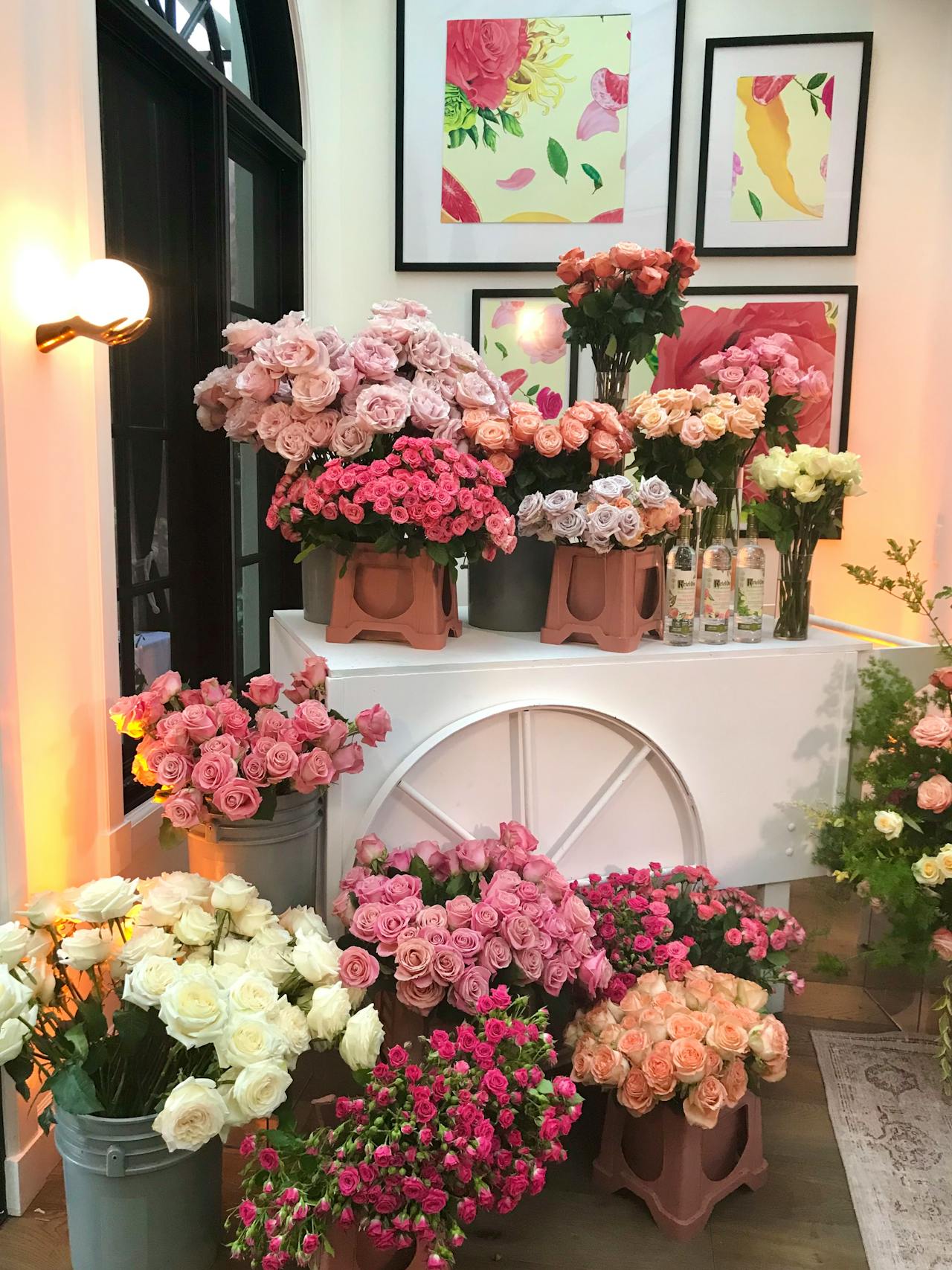 "For this party, we went wild filling the room with roses, and it made such an opulent, over-the-top, yet ultimately effective way to transform the space," Harris said.Photo: Claire Hoffman/BizBashAlong with the choice of venue, the event highlighted the "home entertainment" aspect of the product line through a series of panels featuring hosting advice from Harris himself.
"Don't be afraid to bring edible garnishes into your table setting to help tell a full story. … Whenever there's something unexpected on your table, your guests are bound to pull out the phone with camera and start capturing memories," said one sign. is the perfect way to add style and ease to your evening.
BizBash caught up with Harris after the event to get more tips on home entertainment and floral design.
What are your go-to tips for incorporating exaggerated floral designs and popping colors, without going overboard?
"It's about having a bold point of view and staying true to the things you love. When something feels authentic, you can't help but love it. For example, I love roses (especially for a grape variety called grapefruit and rose) so for this party, we went wild filling the room with roses, and it made such an opulent, over the top, but ultimately effective way to transform the space."
What types of flowers and decor do you see trending for home entertaining?
"I don't make trends, but I think as our lives try to get back to how they were before COVID, a sense of ease when it comes to entertainment is going to be key. So having an easy cocktail, an easy floral moment, etc. – things that look like that don't take that much effort (though secretly they do)."
What's the biggest mistake you see with home entertainment?
"Trying to do too much! Getting overwhelmed and trying to outdo yourself when the key to a great party is fun personalities, a great vibe, and one delicious thing. If you get those three things right, the rest will be perfect. Do this you're doing well, then move on."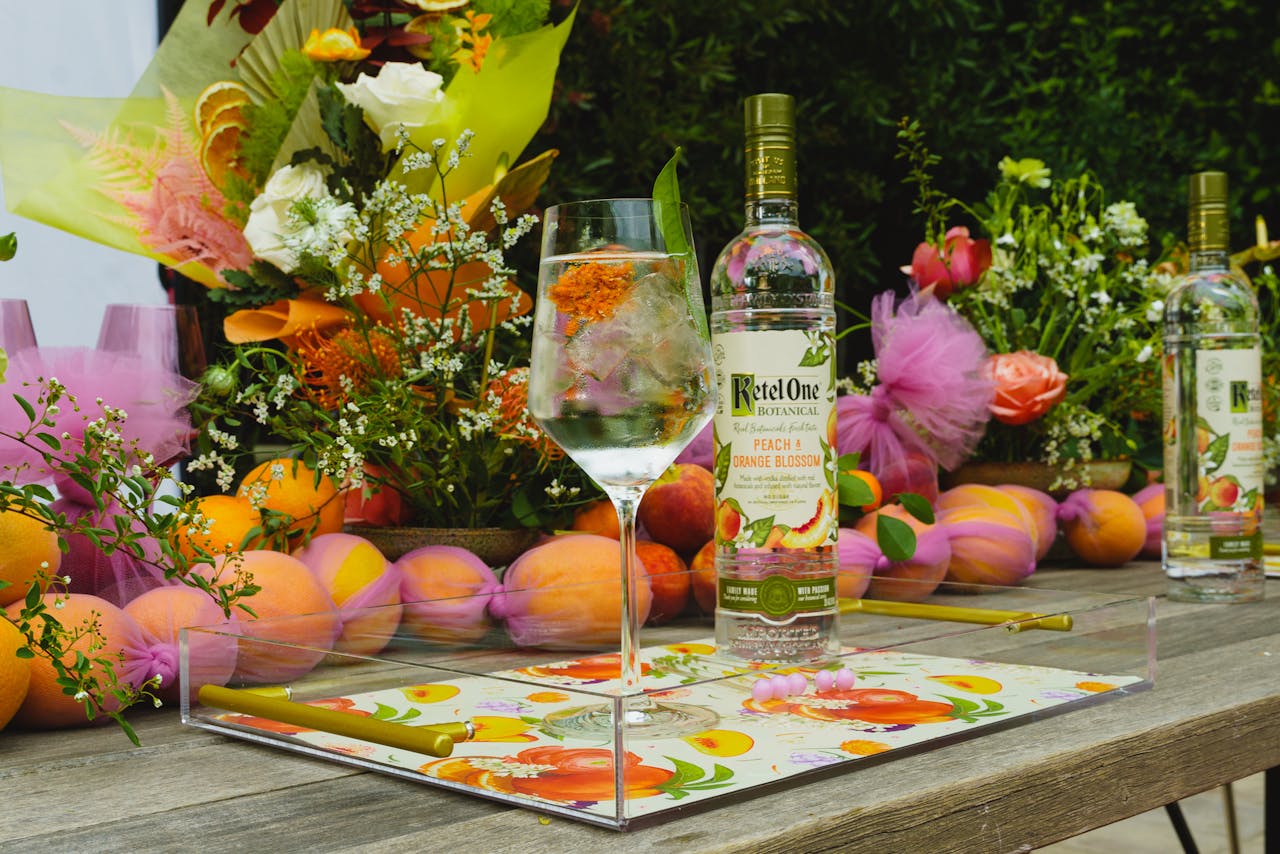 Items in the collection range from $3 to $180 and are available on TheBar.com while supplies last.Photo: Connor Gaskey